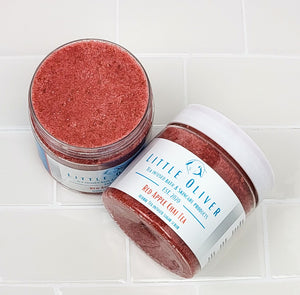 Red Apple Chaí Tea Infused Sugar Scrub
Red Apple Chaí Tea Infused Sugar Scrub 
Soft, supple, and luminous are three words to describe your skin texture when it's at it's absolute best. 
 Exfoliate and condition the surface of your skin with our Red Apple Chaí Tea Infused Sugar Scrub. This coarse scrub removes dry dead skin while melting into a moisturizing creamy texture. If soft and smooth skin is your goal this scrub provides an ability to soften rough patches, reduce the appearance of scars, soothe irritated skin, and make enlarged pores less visible. Enriched with chamomile extract for added soothing properties to calm skin irritation. Safe for dry and combination skin types. Use this scrub 2-3 times per week to prevent a build up of dead cells that lead to a dry and rough skin texture. 
Herbal Infusion
Infused with an herbal tea blend of black tea, red delicious apple, cinnamon, and star anise. The shea butter in this product goes through a heat and blending process that draws the nutrients, scents, and benefits of the herbs, fruits, and botanicals and infuses them directly into the butter. This creates a butter that maintains it's moisturizing properties while naturally boosting it's richness in nutrients, vitamins, and antioxidants for added benefits to the skin.
Enriched with chamomile extract. This scrub has an added benefit of soothing the skin as it exfoliates. Excellent for those with sensitive skin and irritating skin conditions.
Ingredients 
Sugar, Vegetable glycerin, Carthamus Tinctorius (Safflower) seed oil, Polysorbate 20, Butyrospermum Parkii (Shea) Butter ( infused with black tea, star anise, cinnamon, and red delicious apple), Theobroma cocoa (Cocoa) seed butter, BTMS 25, Aloe vera juice, Emulsifying wax, Cetearyl alcohol, Fragrance, Optiphen, Xanthan gum.
 Scent
A sweet, spicy, and herbaceous scent blend of crisp red delicious apple and chaí tea.
Tips and instructions
This is a body exfoliant and is not intended for use on the face. A gentler product is required for cleansing and exfoliating the face. Use a non-comedogenic moisturizer like our Soothing Aloe Vera Rub after exfoliating.For best results Use 2-3 times per week in the shower. Wash skin completely with soap before exfoliating. Rinse thouroughly. External use only.Avoid contact with eyes.