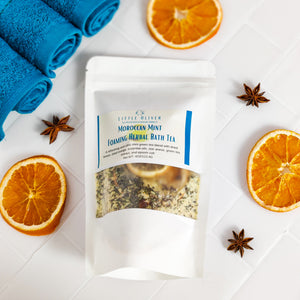 Moroccan Mint Foaming Bath Tea
Moroccan Mint Foaming Bath Tea
Make your me time extraordinary in a soothing bubble bath enriched with skin loving herbal nutrients. You've earned it!
 It's tea for your bath! 
Our Moroccan Mint Foaming Bath Tea features an herbal tea blend of green tea, spearmint, Orange peel powder, lemon, essential oils, star anise, and epsom salt, combined with a soda blend that creates fluffy bubbles. It's both a light bubble bath and nutrient rich bath soak in one. Pair this tea with our bubble bath cookies for an extra delightful bubble bath experience.
Key ingredients & bath tea benefits
Orange peel powder: Rich in vitamin C. Anti-microbial & antibacterial properties.
 Epsom salt: Promotes a sensation of calmness and relaxation. Releases magnesium ions in bath water.
 Moroccan mint green tea & green tea extract: Contains anti-oxidant and anti-inflammatory properties. Rich in vitamins B2, E, & K. Soothes skin irritation and manages sebum production.
 Vitamin E: Improves skin moisture and texture. Anti-oxidant properties decrease signs of aging.
 Star anise: Anti-oxidant properties. Astringent properties (Tightens skin texture). Anti fungal benefits inhibit growth of fungus, including yeast. Antibacterial properties reduce acne causing bacteria.
Ingredients
Baking soda, Moroccan mint green tea (green tea leaves, spearmint), Epsom salt, Sodium Lauryl Sulfoacetate (SLSa), Citric acid, Orange peel powder, Polysorbate 20, Fragrance (scent), Blood orange essential oil, Green tea extract, Tocopherol T-50 (Vitamin E), Lemon, Star anise seed.
Size and packaging
4oz / 113.4G
Comes with 2 drawstring muslin tea bags
Tips & Instructions
Shake pouch very well before opening. Fill muslin bag about 1/2 to 3/4 full. Pull drawstring tightly and tie a knot to secure. Place tea bag in your bath water and leave it in as you bathe so that it can continue to steep and release nutrients. Gently squeeze the bag and move it around in the water to aid in the steeping process if desired. Dispose of used tea bag immediately after use. Do not reuse.