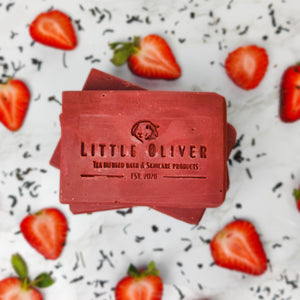 Strawberry Green Tea Infused Soap
Strawberry Green Tea Infused Soap
Every good skin care routine starts with a gentle and effective soap.Treat yourself to a nutrient rich soap that is non-drying and easy on your skin.
Say goodbye to harsh bar soaps that leave your skin feeling dry and stiff.
Our Strawberry Green Tea Infused Soap is formulated with a perfect balance of ingredients to gently clean your skin and remove dirt without stripping it dry. In addition to it's soft and gentle lather, this soap is also infused with soothing and restorative herbal nutrients like chamomile, green tea, and rosehips. This soap is designed with your sensitive skin in mind. A must have for dry and combination skin types.
Handmade 
Herbal infused
Natural ingredients 
Paraben free
Made with aloe vera juice 
Large size at 5+ oz per bar
Minimal packaging
 Herbal infusion
 Infused with green tea, lemon, strawberry, chamomile, and rosehips. The palm oil in this product goes through a heat and blending process that draws the nutrients, scents, and benefits of the herbs, fruits, and botanicals and infuses them directly into the butter. This creates a butter that maintains it's moisturizing properties while naturally boosting it's richness in nutrients, vitamins, and antioxidants for added benefits to the skin.
Ingredients 
Aloe vera juice, distilled water, Elaeis guineensis (Palm) oil (infused with gunpowder green tea, lemon, strawberries, chamomile, and rosehips), Olea europaea (Olive) fruit oil, Butyrospermum parkii (Shea) butter, sodium hydroxide, Cocos nucifera (Coconut) oil, Ricinus communis (Castor) seed oil, Theobroma cacao (Cocoa) seed butter, Fragrance, Titanium dioxide, Mica powder, Granulated sugar, Sodium lactate
Scent 
A sweet scent of strawberry and peach combined with a light base note of earthy green tea 
Tips and instructions
Use these handmade soaps to clean the body. Apply to washcloth or directly to skin. A washcloth, bath sponge, or loofa will produce more lather than direct skin contact and may also increase the longevity of your bar. For maximum longevity, store bar in a soap dish and keep in a dry place between uses. Not intended for use in hair or scalp. Not intended for use on children. Not intended for use on pets. If irritation occurs, discontinue use.